A GIFT FROM SYLVIA SHIRLEY IS SHARING A LOT OF HAPPINESS, RELAXATION AND WELL-BEING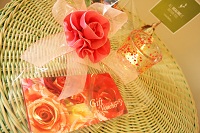 You can give a beautifully wrapped gift voucher to someone you  care about or maybe you ask someone for you to receive one for yourself.
Joy that is shared twice, once when you give the voucher and then when the recipient is receiving their favourite
Also available as a corporate gift and valid for 2 years.
If you happen to find one in your drawer that is out of date, then please use it now. I will gladly accept it. Thank you very much.